It's almost Mother's Day, and you've realized that you haven't gotten her anything yet. (Don't worry—it happens to the best of us.) You could buy a mother's day gift and pick up some flowers, but do you really want your sweet mother to be left with a flimsy bo10 Mother's Day Dinner Ideas To Surprise Mom
Mother's Day is Sunday, and you want to surprise Mom with one of her favourite meals? You want some mother's day dinner ideas that are easy, creative and just right for the occasion. Surprise mom this year, on mother's day, with a homemade meal. Save the restaurant meal for another night — takeout tastes exactly the same as it did when she first met Dad (and you didn't exist), so get cooking! And don't worry; we are here to help. We've compiled a list of fabulous mother's day dinner ideas sure to delight mom no matter what her culinary preferences.
Herb-Crusted Beef Tenderloin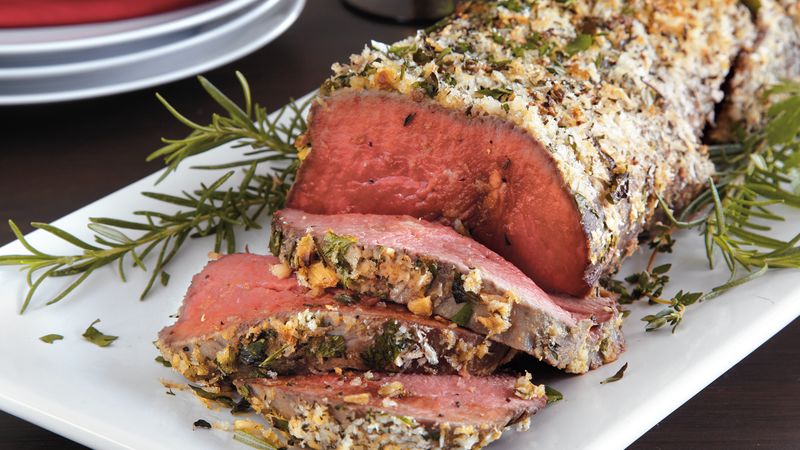 A Mother's Day gift for the mom who deserves it all.
This herb-crusted beef tenderloin is perfect for the dedicated, hard-working mother in your life who deserves to be pampered. The tenderloin is marinated in a blend of herbs and spices and then slow-roasted until it has a tender, juicy interior and a crispy outer crust. It is lightly glazed with a homemade au jus sauce that will leave them licking their lips (and wanting more).
Delicious and healthy, this meal can be served alongside or on top of any number of side dishes, such as roasted potatoes, brown rice, or sauteed vegetables.
Chicken Scallopini
If you've been putting off getting your mom the perfect gift, you're in luck. With this mouthwatering recipe, you'll be able to make a meal that she will love—and be able to share it with her, too!
Chicken Scallopini is a classic Italian dish made with thin-sliced chicken breast and an easy-to-make sauce of white wine, lemon juice, and capers. This chicken dish is delicious with pasta or rice, or even on its own. It is also incredibly easy to make, so even if cooking isn't your strong point, this recipe will be a breeze for you.
To complete the Mother's Day meal, we recommend serving this chicken with a side of roasted potatoes and green beans. Use the leftovers for lunch the next day – just add some bread or crackers!
Chicken Parmesan Casserole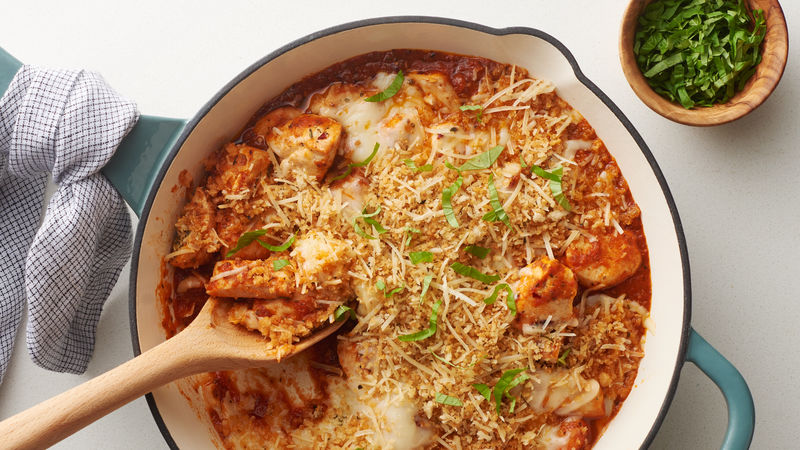 We know you want to show Mom how much you love her—and what better way than a sweet surprise that's actually good for her?
Get your Mom everything she needs to make a Chicken Parmesan Casserole this Mother's Day, including all the ingredients she'll need, a casserole dish, and some beautiful flowers.
She'll love how delicious the casserole is, and it's such an easy recipe that she'll be able to spend more time doing the things she loves instead of slaving over a stove. It doesn't get better than that!
Slow Cooker Bolognese Sauce
A Slow Cooker Bolognese Sauce Mother's Day is a great way to celebrate Mother's Day. It is delicious, easy and fun to eat. The recipe will give you a delicious bolognese sauce that you can serve for breakfast or lunch. You can also use this recipe for a snack or dessert. It is perfect for kids, teens and adults.
The best part about this recipe is that it is simple to make, so there is no need to be afraid of using the slow cooker again. If you are looking for something special, this is the perfect recipe for you!
Lasagna Roll Ups
Ditch the diet for a day, and give your mom what she really wants: lasagna roll-ups.
The ultimate comfort food, lasagna is a crowd-pleaser for all occasions—and that's especially true when it comes to your mom. Whether you're celebrating Mother's Day, your mom's birthday, or any other day that feels like a special treat, everyone will enjoy these bite-sized lasagna rolls.
If you're not sure how to make them, don't sweat it! We have an easy-to-follow recipe that yields the best results every time. And if you want to zero-in on her favorites, we can help with that too. We've got recipes for chicken lasagna roll-ups, spinach lasagna roll-ups, pepperoni lasagna roll ups… even taco lasagna roll ups! You can't go wrong with any of them.
Crab Cakes with Green Tomato Slaw
Don't let the name fool you: crab cakes are a delicacy fit for a queen, and that's why we're recommending them as the star of your Mother's Day menu this year.
This recipe combines fresh lump crab meat, green onions, and celery with spicy jalapeño and a creamy mayonnaise-mustard sauce to create a dish that is equal parts crunchy and silky. And of course, the green tomato slaw is the perfect way to add another bite of crispness to this decadent dish.
If you're worried that crab cakes are too complicated to make at home, don't be scared! With this recipe, you'll get perfectly golden, crispy cakes every time—and your family will be so impressed with how these look on the plate that they'll never guess how easy it was for you to pull them off.
Creamy Rice with Scallops
Mother's Day is coming up, and you know what that means: it's time to cook mom an incredible meal. This year, try something easy but elegant: Creamy Rice with Scallops. You can prepare this dish in just 15 minutes, and the result is a bowl of rich comfort food that will make mom feel like a queen.
Just add some butter to your favorite pot, then drop in 2 cups of arborio rice and stir for about 3 minutes until everything is coated in the butter. Then pour in 2 cups of hot chicken or vegetable broth and stir gently until the liquid has soaked into the rice. Next, add another cup of broth, 1/2 cup at a time, stirring each time until the liquid has been absorbed by the rice. Repeat this step 3 more times until all 6 cups of broth have been absorbed by the rice—just make sure it doesn't get too thick!
Once your rice is creamy and delicious-looking, add 1/2 cup of shredded Parmesan cheese and 1 tablespoon of lemon zest.
While you're waiting for your rice to finish cooking, melt 2 tablespoons of butter in a skillet over medium heat.
Stuffed Eggplant Parmesan
This Mother's Day, treat the mother in your life to something a little different—and a lot delicious. This stuffed eggplant parmesan recipe is a great way to enjoy all of the classic flavors and textures of this traditional Italian dish while shaking up your routine with a brand-new take on an old favorite.
This is a great recipe for anyone who loves to cook and experiment, or for those looking to add new dishes to their repertoire! The soft and tender eggplant is a perfect alternative to the usual tomato-based sauce of traditional eggplant parmesan, and the addition of cheese and juicy tomatoes makes for an impressive presentation.
The key here is using high quality ingredients—the fresher, the better!
Roasted Spatchcock Chicken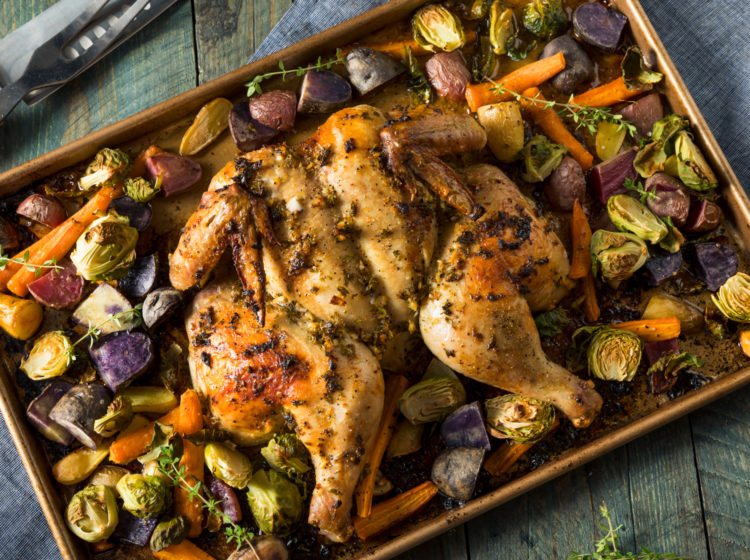 This Mother's Day, treat your mom to a spatchcock chicken dinner with all the fixins.
Spatchcock is the more elegant way of saying ""butterflied,"" which means you take a whole chicken and cut out its backbone so that it lays flat. This roasting method is fast and delicious, but one of the best parts of this dish is that it allows you to really get in there with your hands and make sure all the skin is evenly crispy and seasoned. If you want to impress your mom while still giving her an intimate experience, this is the meal for you!
You could literally serve this with a salad and call it a day, because the chicken will be so juicy and flavorful, but we suggest serving it alongside some green beans sautéed in olive oil or butter, and mashed potatoes (or cauliflower mashers if you're going low-carb).
Gwyneth Paltrow's Easy Frittata
Do you love frittatas? And do you have a mom? Then we have the perfect Mother's Day brunch recipe for you: Gwyneth Paltrow's Easy Frittata.
This dish is perfect for your special lady because it's so easy to make that even if you've never cooked anything in your life, she'll think you're a master chef. And did we mention it's delicious?
We know you'll love this recipe and so will your mom!
Mom No Matter How Hard Life Gets At Least You Don't Have Ugly Children Mother's Day Gifts T-Shirt
Great gift for your mom, mother, mama, sister, gramma, grandma, auntie, bestie or any family members and friends who are moms and have beautiful kids!
Conclusion
Mother's Day is a time to be with your mom and have a great time. You should definitely surprise your mom with some good presents according to her choice and interest. A home cooked meal is the best gift for mom on this day. Here are some super easy Mother's Day dinner ideas that can help you plan the perfect dinner for your mother.uquet of carnations?
This year, we're skipping the ""last-minute"" part of Mother's Day gifts and giving her something she'll actually cherish.
Here are our favorite flower gifts for Mother's Day!